Tartistry by M
Mini Tarts for Every Occasion
Thank you for dropping by!
Do take note of the following;
Dec: Slots available.
Doorgifts: Dec available.
School / Corporate Bakesale: Dec available.
Follow our IG / FB stories for daily extra boxes. Subject to availability.
Check back here regularly for updates on menu changes and preorder date availability!
Ehsan Pastries Platter
Solidarity, Compassion and Hope.
Join us in unity as we stand by our Pa.les.tinian brothers and sisters who have endured injustice since 1948.
Lets keep praying, making du'a and contributing to charity to aid innocent victims in Ga.za.
Together we can create a positive impact ❤️
100% of profits will go to Global Ehsan Emergency Relief fund.
Order our Ehsan Pastries Platter.
Delivery only on weekends.
Buy Now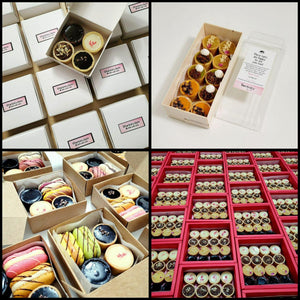 Doorgifts
Planning a family wedding in the coming month? In need of wedding favours? Got a corporate event happening soon? Looking for great gifts for your staff? We've got you covered!
Take a look at our Doorgift Catalogue, proceed to fill up the Doorgift Order Form and we'll work something out that's pretty and yummy and still within your budget :)

Doorgift Catalogue
Wedding Centrepiece Tower
Stand apart with our Wedding Centrepiece, a 4 tiered all mini tart tower full of elegance, charm and the focal point of your wedding celebration!
Whatsapp Us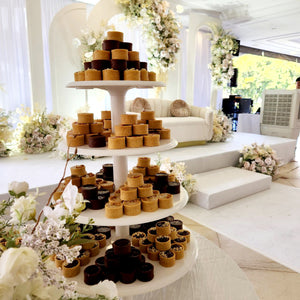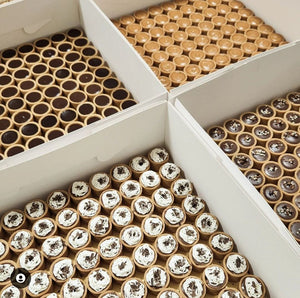 Events Platter
Introducing our Events Platter of 100pcs (moq 2 boxes), single/double flavour per platter and 6 flavours to choose from!
Perfect for your dessert tables at your events, meetings and casual get togethers.
Cafe and restaurant owners, if you'd like to add delicious tartlets of various flavours to your menu, hit us up and we'll work something out!
Whatsapp Us
Features
We were featured in Honeycomber's "Celebrate Hari Raya Puasa with sweet snacks and goodies: Cookies, kuihs, crackers and more" article earlier this year. Click on the following link to read...